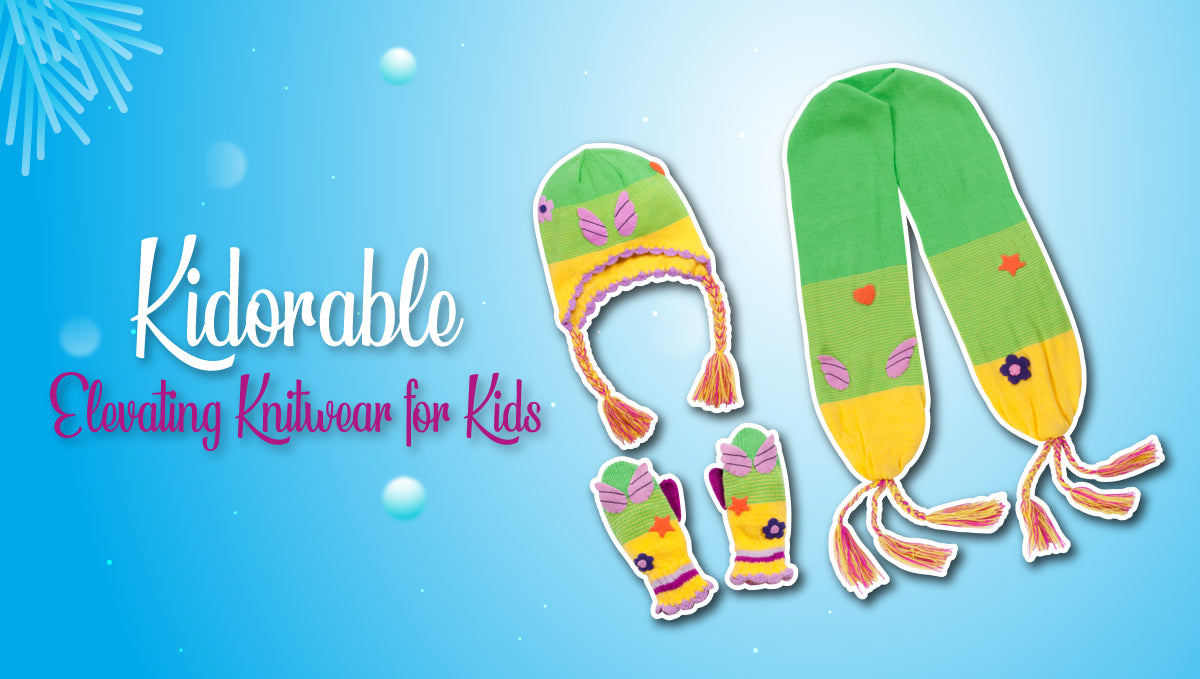 As winter's frosty embrace draws near, it's time to prepare your child's wardrobe for the cold season. One of the most important elements to ensure warmth and comfort during winter is knitwear. Knitwear is not just about keeping your little ones snug; it's also a fashion statement that can infuse style and coziness into their winter outfits. In this blog, we'll explore the essential winter wardrobe items for kids, with a particular emphasis on knitwear.
1. Sweaters for Kids:
Sweaters are a timeless winter staple. They come in various styles, from chunky knits to lightweight options, and are designed to provide warmth while keeping your kids looking fashionable.
2. Knit Cardigans:
Cardigans are versatile and can be layered over other clothing items. They offer the perfect blend of warmth and style.
3. Knit Scarves:
A knit scarf is not only practical but also a stylish accessory. It provides additional warmth and can be styled in numerous ways.
At Kidorable, we believe that kids should have the opportunity to express their unique personalities and imaginations in everything they wear, including their winter accessories. That's why we've created a delightful collection of Kidorable Knit Scarves, featuring enchanting themes: Ballerina, Fairy, Noah's Ark Scarf and Pirate.
4. Knit Hats:
A good knit hat not only keeps your child's head warm but also adds a touch of charm to their winter look.
Kidorable knit hats are the perfect accessory to keep your little one warm and stylish during the winter months. We have created an adorable set of knit hats including Lucky Cat knit hats, Fairy knit hats, Lotus Flower knit hats and more. These whimsical and well-crafted hats designed with children in mind, bringing a touch of fun and creativity to their winter wardrobe.
5. Gloves and Mittens:
Don't forget to keep those little hands toasty. Knit gloves or mittens are essential for outdoor activities in cold weather.
Kidorable has got you covered with a delightful range of gloves and mittens that are not only functional but also add a touch of whimsy to your little one's winter wardrobe. We have Dinosaur mittens, Fireman glove, Frog mitten and so on.
6. Knit Leggings and Tights:
Knit leggings and tights provide extra insulation and allow your child to wear their favorite dresses or skirts even in the winter.
7. Cozy Socks:
Keep those tiny feet warm and comfortable with cozy knit socks. They are perfect for wearing with boots or at home.
8. Knitwear Sets:
For a complete winter look, consider knitwear sets that include sweaters, hats, scarves, and mittens. These sets are not only practical but also ensure a coordinated and stylish appearance.
Kidorable: Elevating Knitwear for Kids
Kidorable is renowned for its delightful children's knitwear. Their designs range from playful animals to beloved characters, making them perfect for kids who want both warmth and whimsy in their winter wardrobe.
The Kidorable Fairy Knitwear Set is a magical addition to any child's winter wardrobe. Designed to bring enchantment and warmth to your little one's chilly adventures, this knitwear set is perfect for those who adore all things whimsical and fairy-tale inspired.
Whether you're looking for cozy sweaters with charming characters, matching knit hat and scarf sets, or adorable mittens and gloves, Kidorable has you covered. With their dedication to quality and style, Kidorable Knitwear is a top choice for parents who want their children to stay warm and fashionable during the winter season.
Knitwear is a crucial component of a comfortable and stylish winter wardrobe for kids. Whether it's sweaters, scarves, hats, or gloves, knitwear not only provides warmth but also adds a touch of personality to your child's winter attire. When choosing knitwear for your kids, remember to prioritize comfort and style. With Kidorable's delightful knitwear offerings, you can ensure that your child remains snug and stylish, enjoying the winter season to the fullest.
Nov 03, 2023

Category:

Blogs
Comments: 0