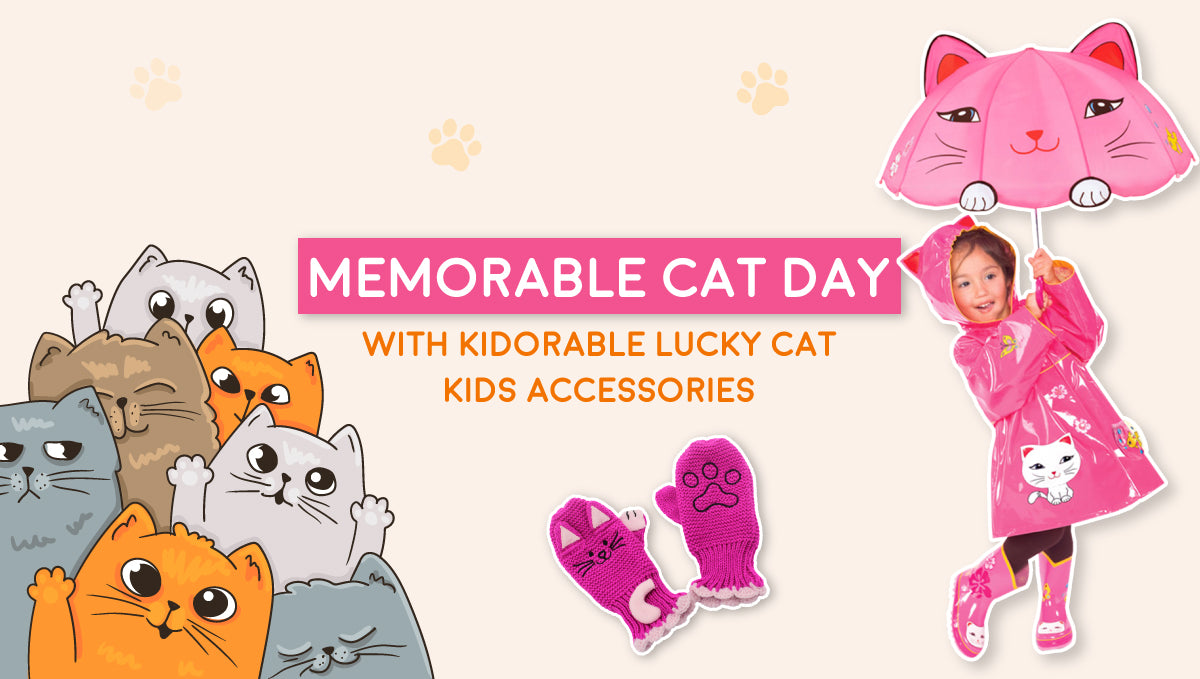 Who doesn't love cats? Their playful behavior, soft fur, and charming mystery have captivated generations. If you're a parent looking to make your child's day special or a cat enthusiast celebrating your feline friend, you're in for a treat. Kidorable, a renowned brand for children's accessories, offers a delightful collection of Lucky Cat Kids Accessories that will turn any day into a memorable cat-themed adventure.
In this blog, we'll explore the world of Kidorable's Lucky Cat Accessories, including the Lucky Cat raincoat, knit mittens, knit hat, and rainwear set, and share creative ideas to make your cat's day unforgettable.
Kidorable's Lucky Cat Kids Accessories - Purrfect for Your Little Ones
Kidorable, a beloved brand known for its imaginative and high-quality children's accessories, offers an adorable collection of Lucky Cat-themed items. From rain boots to umbrellas, raincoats, knit mittens, knit hats, and rainwear sets, these accessories are not only practical but also incredibly cute. They feature vibrant colors, whimsical designs, and, of course, the iconic Lucky Cat motif.
Lucky Cat Rain Boots:
A cat day adventure can begin right from your doorstep with Kidorable's Lucky Cat Rain Boots. These durable and waterproof boots feature Lucky Cats' cheerful faces, ensuring that your little one's feet stay dry while they splash in puddles, all while looking adorable.
Lucky Cat Umbrellas:
Kidorable's Lucky Cat Umbrellas are a must-have accessory for a rainy cat day. With their playful cat designs, these umbrellas will not only keep your child dry but also add a touch of whimsy to the gloomiest of days.
Lucky Cat Raincoat:
Complete your little one's rainy day ensemble with Kidorable's Lucky Cat Raincoat. This raincoat features the same cute Lucky Cat design and is made of high-quality, waterproof material to keep your child dry and happy even in the heaviest rain.
Lucky Cat Knit Mittens and Knit Hat:
For chillier days, Kidorable offers Lucky Cat Knit Mittens and a Knit Hat. These cozy accessories will not only keep your child warm but also make them feel like they have their very own Lucky Cat companions by their side.
Lucky Cat Backpacks:
Take your Lucky Cat adventure on the go with Kidorable's Lucky Cat Backpacks. These backpacks are both functional and fun, making them the ideal accessory for school or outings. The Lucky Cat designs will surely make your child stand out and bring smiles wherever they go.
Lucky Cat Rainwear Set:
For a full cat-themed outfit, Kidorable's Lucky Cat Rainwear Set is the perfect choice. This set includes a raincoat, umbrella, rain boots, knit mittens, and a knit hat – everything your child needs to stay dry and stylish while embracing the magic of Lucky Cats.
Creative Cat Day Ideas
Now that you have the perfect accessories, let's explore some creative ideas to make your cat-themed day truly memorable:
1. Lucky Cat Treasure Hunt: Hide small cat-themed toys or treats around the house or in the garden for your little ones to find. Use Kidorable's Lucky Cat Accessories as clues to guide them on their adventure.
2. Cat-Themed Movie Marathon: Pick some family-friendly cat-themed movies, like "The Aristocats" or "Puss in Boots," and have a cozy movie marathon with cat-shaped snacks and popcorn.
3. DIY Cat Crafts:Gather some crafting supplies and make cat masks, cat ear headbands, or even paint Lucky Cat figurines. It's a great way to unleash your child's creativity.
4. Cat Storytime: Spend some quality time reading cat-themed books together. Look for classics like "The Cat in the Hat" or explore new cat adventures in children's literature.
Kidorable's Lucky Cat Kids Accessories provide the perfect way to celebrate a memorable cat day with your children. Their delightful range of rain boots, umbrellas, raincoats, backpacks, knit mittens, knit hats, and rainwear sets not only keep kids dry and stylish but also foster creativity and a love for cats. Whether you're enjoying a rainy day indoors or embarking on a cat-themed adventure outdoors, Kidorable's Lucky Cat Accessories will make the day unforgettable. So, grab these charming accessories and let your little ones embrace the magic of cats today! Happy Cat Day!
How Do You Choose The Right Baby Towel For Your Child?
Bath time is a special moment of bonding and care for both you and your little one. Choosing the right baby towel is an essential part of making this experience safe and comfortable. With a plethora of options on the market, finding the perfect towel can be overwhelming. In this blog, we'll guide you through the process of selecting the right baby towel for your child.
Why Does Choosing the Right Baby Towel Matter?
Baby towels are more than just a way to dry your child; they are an important part of your baby's comfort and safety. Here's why it matters:
1. Gentleness on Delicate Skin: A good baby towel is soft and gentle on your baby's sensitive skin, reducing the risk of irritation.
2. Warmth and Comfort: Baby towels keep your child warm and cozy after a bath, preventing chills.
3. Durability: High-quality towels last longer and can withstand frequent washes.
4. Cute and Fun Designs: Kidorable towels add an element of fun and whimsy to bath time with their charming designs, making bath time an enjoyable experience for your child.
Key Factors to Consider When Choosing a Baby Towel:
Fabric:

Look for towels made of natural, soft materials like 100% cotton. These are gentle on your baby's skin and highly absorbent.
Size:

Ensure the towel is of an appropriate size to wrap your baby comfortably.
 Design and Fun Elements: Kidorable towels are famous for their delightful designs, including animal themes, like Lucky Cat, Dinosaur, and more. These fun elements make bath time enjoyable for your child.
Hooded Towels:

Hooded towels provide extra warmth and help dry your baby's head and hair effectively.
Absorbency:

A good baby towel should be highly absorbent to dry your child quickly.
Kidorable Towels - A Perfect Choice:
Kidorable offers a wide range of whimsical and imaginative towels for children, which meet all the criteria mentioned above. These towels have charming designs, such as the Lucky Cat, Dinosaur, Butterfly, and Lotus Flower. The hooded design ensures your child's head stays warm, and the 100% cotton fabric guarantees softness and absorbency. Kidorable towels make bath time not just a routine but a delightful adventure for your child.
Additional Tips for Bath Time:
Create a Safe Space:

Ensure your bathroom is baby-proofed to prevent accidents.
Maintain the Right Water Temperature:

Always check the water temperature before placing your baby in the bath.
Keep the Experience Positive:

Use bath time as an opportunity to bond with your child, sing songs, and play with toys.
Dry Gently:

After bath time, use your soft and absorbent Kidorable towel to dry your baby gently, ensuring their comfort and warmth.
Choosing the right baby towel is crucial for your child's comfort, safety, and enjoyment during bath time. Kidorable towels offer the perfect solution with their softness, absorbency, and charming designs. Invest in a Kidorable towel to create lasting memories during bath time, and make it an adventure your child will look forward to every day. Bath time should be both fun and functional, and Kidorable towels ensure that it is. 
So, wrap your little one in comfort and joy with Kidorable today!
Knitwear Comfort for Kids: Winter Wardrobe Essentials
As winter's frosty embrace draws near, it's time to prepare your child's wardrobe for the cold season. One of the most important elements to ensure warmth and comfort during winter is knitwear. Knitwear is not just about keeping your little ones snug; it's also a fashion statement that can infuse style and coziness into their winter outfits. In this blog, we'll explore the essential winter wardrobe items for kids, with a particular emphasis on knitwear.
Sweaters for Kids:
Sweaters are a timeless winter staple. They come in various styles, from chunky knits to lightweight options, and are designed to provide warmth while keeping your kids looking fashionable.
Knit Cardigans:
Cardigans are versatile and can be layered over other clothing items. They offer the perfect blend of warmth and style.
Knit Scarves:
A knit scarf is not only practical but also a stylish accessory. It provides additional warmth and can be styled in numerous ways.
Knit Hats:
A good knit hat not only keeps your child's head warm but also adds a touch of charm to their winter look.
Gloves and Mittens:
Don't forget to keep those little hands toasty. Knit gloves or mittens are essential for outdoor activities in cold weather.
Knit Leggings and Tights:
Knit leggings and tights provide extra insulation and allow your child to wear their favorite dresses or skirts even in the winter.
Cozy Socks:
Keep those tiny feet warm and comfortable with cozy knit socks. They are perfect for wearing with boots or at home.
Knitwear Sets:
For a complete winter look, consider knitwear sets that include sweaters, hats, scarves, and mittens. These sets are not only practical but also ensure a coordinated and stylish appearance.
Kidorable: Elevating Knitwear for Kids
Kidorable is renowned for its delightful children's knitwear. Their designs range from playful animals to beloved characters, making them perfect for kids who want both warmth and whimsy in their winter wardrobe.
Whether you're looking for cozy sweaters with charming characters, matching knit hat and scarf sets, or adorable mittens and gloves, Kidorable has you covered. With their dedication to quality and style, Kidorable Knitwear is a top choice for parents who want their children to stay warm and fashionable during the winter season.
Knitwear is a crucial component of a comfortable and stylish winter wardrobe for kids. Whether it's sweaters, scarves, hats, or gloves, knitwear not only provides warmth but also adds a touch of personality to your child's winter attire. When choosing knitwear for your kids, remember to prioritize comfort and style. With Kidorable's delightful knitwear offerings, you can ensure that your child remains snug and stylish, enjoying the winter season to the fullest.
Nov 03, 2023

Category:

Blogs
Comments: 0