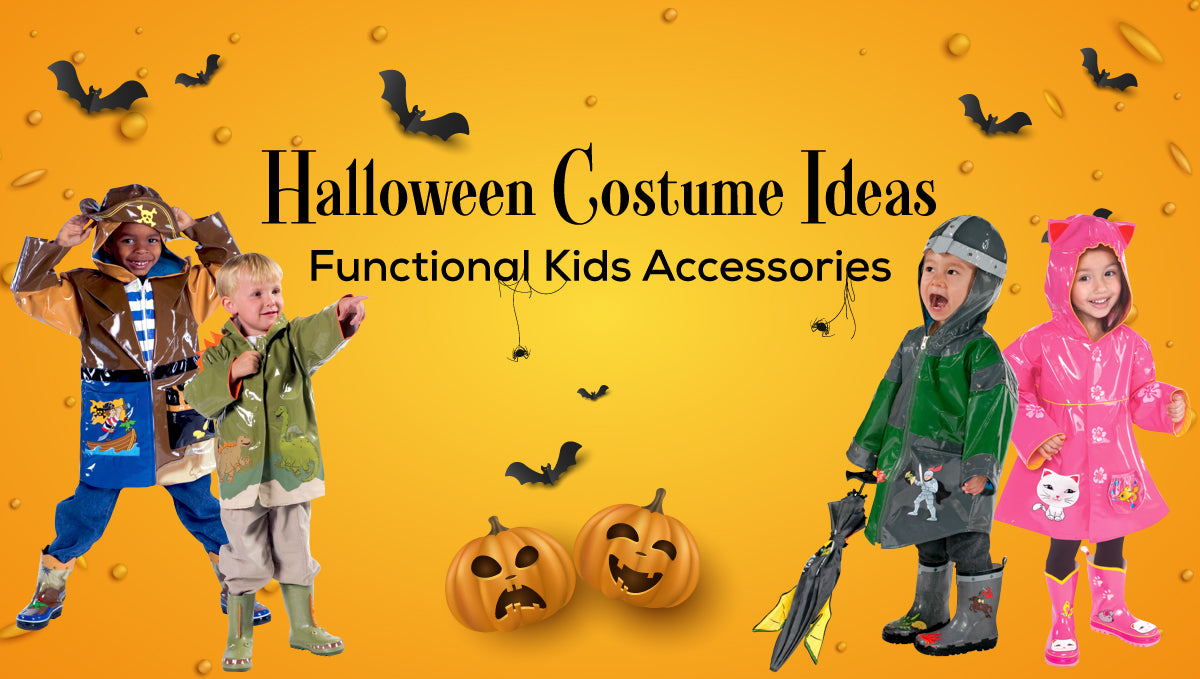 Halloween is just around the corner, and it's time to start planning your kids' costumes and accessories for a fun-filled day of trick-or-treating. While finding the perfect Halloween costume is important, it's equally essential to ensure your little ones are comfortable and protected during the festivities. That's where Kidorable Rain Coats come into play. This blog'll show you how these functional kids' accessories can add a spooktacular style to your Halloween costume ideas while keeping your children dry and cool. Get ready for Halloween Day fun with Kidorable Rain Coats!
Kidorable Rain Coats: The Perfect Halloween Costume Accessory
When it comes to Halloween, you want your children to look their best, and Kidorable Rain Coats offer a unique blend of style and functionality. These adorable raincoats are designed to keep your little ones dry and complement their Halloween costumes. Let's explore some fantastic Halloween costume ideas and how Kidorable Rain Coats can elevate them.
Pirate Adventure: Transform your child into a swashbuckling pirate this Halloween. With a pirate hat, eyepatch, and a Kidorable Pirate Rain Coat, your little one will be ready to sail the high seas in search of treasure. The coat's skull and crossbones design add a spooky touch to their pirate ensemble.
Dinosaur Delight: Dinosaurs are a perennial favorite among kids, and you can easily turn your child into a fearsome T-Rex with a dinosaur costume. Add a Kidorable Dinosaur Rain Coat to the mix for that extra wow factor. This raincoat features a dinosaur spine along the back, making your child the coolest dinosaur in town. 
Dragon Knight Adventure: Dragons are a legendary symbol of bravery and power. Turn your child into a brave Dragon Knight this Halloween with a knight's costume and a Kidorable Dragon Knight Raincoat. This raincoat features a medieval dragon design, making your little one the coolest knight in the kingdom.
Lucky Cat Charm for Girls: Add a touch of charm and fortune to your girl's Halloween ensemble with the Kidorable Lucky Cat Raincoat. This delightful raincoat showcases a lucky cat design with a raised paw and an adorable face. Your child will stay dry and carry a piece of luck with her throughout the Halloween celebrations. 
Kidorable Raincoats as Functional Kids Accessories
Kidorable Rain Coats are not just stylish; they are highly functional too. With their waterproof material and hood, these coats protect against unexpected rain showers, ensuring your child's costume remains intact. The snap buttons make it easy for your child to put on and take off the raincoat themselves, adding convenience to your Halloween adventure.
Stay Cool and Comfortable on Halloween
Halloween can sometimes be unpredictable when it comes to the weather. One moment, it's sunny, and the next, it's pouring rain. Kidorable Rain Coats lets kids stay cool and comfortable in any weather. The breathable material prevents overheating, allowing your child to enjoy the festivities without feeling stuffy under their costume.Explore Kidorable Rain Coat Styles.
Kidorable offers a wide range of rain coat styles that perfectly align with Halloween costume ideas and beyond. Check out their collection of rain coats here to find the one that suits your child's Halloween look the best.
Conclusion
Halloween is all about fun and creativity. Make this Halloween unforgettable for your kids by incorporating Kidorable Rain Coats into their costume ideas. Not only will they look spooktacular, but they'll also stay dry and comfortable, no matter what the weather brings. Get ready for a memorable Halloween Day filled with fun, cool costumes, and Kidorable style!
Oct 27, 2023

Category:

Blogs
Comments: 0